Hydrotherapy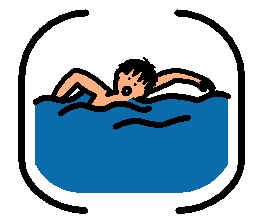 The Physiological and Psychological benefits of Hydrotherapy
Increased muscle strength
Increased aerobic capacity
Improvement of gross motor functions
Reduced joint loading and impact
Decreasing the negative influence of poor balance and poor postural control through decreasing the influence of gravity
Reduction of muscle tone/spasticity
stimulation of vocalization and language
improved toleration of touch, encouragement of eye contact
improved confidence and self-esteem
The Halliwick Method of Swim Instruction
Halliwick is a method of water orientation and swim instruction. The Halliwick Method originated in England, where in 1949, James McMillan, an engineer by profession, developed techniques for helping individuals with disabilities become independent swimmers.
Although the Halliwick Method can be used to teach any individual to swim, it is of particular benefit when used with individuals who have extreme fear, limited prior experiences in water, special health problems, and/or severe physical or multiple learning disabilities  The basic purpose of the Halliwick Method is water freedom – total independent movement in water. After that is achieved, anything is possible.
Hadrian School Water Skills Assessment
Hadrian School have implemented a unique water skills assessment suited to the ability level of children and young people with additional needs. Our Water Skills Assessment Tool is based around the Halliwick method of swim instruction as it is a valued teaching method and has provided very positive outcomes in a very short period of time. The assessment criteria follow a similar pattern to the philosophy and concept of the Halliwick Association of Swimming Therapy. Our ideas and assessment scheme are an adapted version of the Halliwick 10 Point Programme. We have adjusted skills, included our own levelling system and devised an approach that allows every child and young person at Hadrian School to make progress in the water, however big or small that may be. This is a step by step process, and the knowledge we have taken from the Halliwick course is that skills from our 'Entry Level 1' will have a massive effect on a child or young person's ability to carry out skills in Level 6 onwards. It is a process to follow and each child or young person, regardless of swimming experience and disability will benefit from this programme and show success
---
Hydrotherapy at Hadrian School
We currently have a hydropool 7m x 5m in length/width which is heated to an average of 33 degrees centigrade.