16th May 2023
Dear Parents/Carers/Governors,
I am delighted to report that our OfSTED Inspection Report is attached for information from our recent inspection on the 28th & 29th March 2023. Our school remains in the 'outstanding' category for the fifth successive inspection, which is some achievement for which we are very proud, but certainly not complacent.
We are all so grateful for your support before and during the inspection process. One paragraph sums it up neatly.
Parents are overwhelmingly positive about the school and describe it as 'an amazing school'. Many views were reflected in one comment, saying, 'This school helps children meet milestones we as parents never thought we would see.'
We will continue to relentlessly strive to be the best school we can for your children and our families and we are looking forwards to developing our offer so that we remain part of your lives well into your children's adulthood with our new facilities and Community Hub Project.
Just a reminder that children break up for half term on Thursday the 25th May 3.15pm, as there is a Training Day on Friday the 26th May.
Yours sincerely,
Chris Rollings
Head Teacher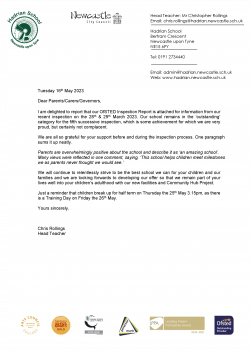 16th May 2023
Inspection of an outstanding school:
Hadrian School
Bertram Crescent, Newcastle-upon-Tyne, Tyne and Wear NE15 6PY
Inspection dates: 28 and 29 March 2023
Outcome
Hadrian School continues to be an outstanding school.
What is it like to attend this school?
This is a kind and caring school, where pupils flourish. Pupils develop strong relationships
with staff and form positive friendships with each other. All pupils have special educational
needs and/or disabilities. Pupils achieve exceptionally well because staff are highly
attuned to, understand and address every individual pupil's specific needs. Leaders are
determined that all pupils will develop the skills they need. They prioritise the school's
approach to 'preparation for life' for every pupil. Therefore, pupils are well prepared for
the future.
Pupils feel safe and secure, and they love coming to school and learning. Staff notice the
achievement, talent or interest of every pupil. They then create opportunities to develop,
showcase and nurture them. Parents are overwhelmingly positive about the school and
describe it as 'an amazing school'. Many views were reflected in one comment, saying,
'This school helps children meet milestones we as parents never thought we would see.'
Pupils behave exceptionally well and are aware of the high expectations for their
behaviour. Highly effective, caring staff consistently use thoughtful approaches to help
pupils understand how to communicate their needs and wishes effectively. Pupils say that
bullying is not a problem, but if it ever did occur, they are confident that staff would act
very quickly to stop it.
What does the school do well and what does it need to do better?
Leaders know their pupils well. They are acutely aware that pupils have a wide range of
specific needs. Some pupils need a highly specialised curriculum. As such, school leaders
work closely with a range of health professionals, therapists and their own specialist
support workers to work with individual pupils. The work of these experienced staff is
woven into the school day to offer pupils and families support well beyond the academic
curriculum.
The curriculum is highly ambitious for all pupils. Leaders have ensured that the school's
curriculum makes it clear what individual pupils must know and be able to do. Leaders
have thought carefully about the important knowledge that pupils need to learn and the
ways that this can be made accessible to pupils with complex needs. Adults design
lessons that are matched to individual needs. Teachers assess the progress made by
pupils and track even the smallest steps.
Where appropriate for pupils, there is a carefully planned reading approach, which helps
them to progress from the earliest stages of reading to being able to read more fluently.
Adults working with children in the early years have a detailed understanding of every
child and their detailed support plans. They have created a stimulating environment, with
very carefully selected equipment and resources, to provide children with every
opportunity to experience sensory stimulation or to engage with the environment around
them.
Leaders and staff promote pupils' personal development highly effectively. Pupils enjoy
the enrichment activities offered to them. For instance, pupils from four classes shared
how excited they were to be taking part in the National Shakespeare in Schools Festival,
performing Othello at Northern Stage on the day of inspection.
Staff are overwhelmingly positive about the support they receive for their workload and
well-being. Governors know the school extremely well. They offer high levels of support
while also providing effective challenge to leaders.
Safeguarding
The arrangements for safeguarding are effective.
Leaders and staff undertake extensive training to ensure that they can identify and
respond to any concerns about pupils. Staff are vigilant and report concerns promptly.
Leaders work with a wide range of external agencies to provide support for pupils and
their families. Governors make regular visits to review the school's safeguarding
procedures. Leaders make robust checks to ensure that adults are safe to work with
pupils. Where appropriate for the pupils, they learn about keeping themselves healthy and
safe.
Background
When we have judged a school to be outstanding, we will then normally go into the
school about once every four years to confirm that the school remains outstanding. This is
called an ungraded inspection, and it is carried out under section 8 of the Education Act
We do not give graded judgements on an ungraded inspection. However, if we find
evidence that a school would now receive a lower grade, then the next inspection will be
a graded inspection, which is carried out under section 5 of the Act. Usually, this is within
one to two years of the date of the ungraded inspection. If we have serious concerns
about safeguarding, behaviour or the quality of education, we will deem the ungraded
inspection a graded inspection immediately.
This is the second ungraded inspection since we judged the school to be outstanding in
March 2013.
How can I feed back my views?
You can use Ofsted Parent View to give Ofsted your opinion on your child's school, or to
find out what other parents and carers think. We use information from Ofsted Parent View
when deciding which schools to inspect, when to inspect them and as part of their
inspection.
The Department for Education has further guidance on how to complain about a school.
Further information
You can search for published performance information about the school.
In the report, 'disadvantaged pupils' refers to those pupils who attract government pupil
premium funding: pupils claiming free school meals at any point in the last six years and
pupils in care or who left care through adoption or another formal route.
School details
Unique reference number 131986
Local authority Newcastle upon Tyne
Inspection number 10255921
Type of school Special
School category Maintained
Age range of pupils 2 to 11
Gender of pupils Mixed
Number of pupils on the school roll 169
Appropriate authority The governing body
Chair of governing body Pat Fox
Headteacher Christopher Rollings
Website www.hadrian.newcastle.sch.uk
Date of previous inspection 6 February 2018, under section 8 of the
Education Act 2005
Information about this school
◼ The pupils are grouped into pathways reflecting the level of their special educational
needs. Pupils are able to move between the pathways on their journey through the
school.
◼ The school does not use alternative education providers.
Information about this inspection
◼ This was the first routine inspection the school received since the COVID-19 pandemic
began. Inspectors discussed the impact of the pandemic with leaders and have taken
that into account in their evaluation of the school.
◼ The inspectors met with the headteacher, the deputy headteacher, the business
manager and other senior and middle leaders. The inspectors also met with a number
of the governors and the local authority representative.
◼ The inspectors carried out deep dives in these subjects: reading, mathematics, science
and preparation for life. For each deep dive, the inspectors met with subject leaders,
looked at curriculum plans, visited lessons, spoke to teachers and pupils and looked at
evidence for learning.
◼ Inspectors visited pupils across the school, including children in the early years.
◼ Inspectors met with the school's designated safeguarding lead. The inspectors
reviewed a range of documents, including the school's single central record, which
includes recruitment checks made on staff.
◼ The responses to Ofsted's online survey, Parent View, were also taken into account.
There were no responses to Ofsted's pupil survey, but inspectors spoke to pupils in
school.
Inspection team
Catherine Beard, lead inspector Ofsted Inspector
Jill Bowe Ofsted Inspector
4th May 2023
Year 6 / 7 Transition Programme 2023
This term we will begin our transition programme to prepare our Year 6 pupils for their move to Sir Charles Parsons.  As part of this process we have planned a number of visits to Sir Charles Parsons School.  We will travel by minibus and children will be supervised by Hadrian School staff at all times.  Please get in touch if you have any questions about the visits.  The dates are as follows:
Thursday 11th May 2023,10.30 – 11.40am: Pupils will have a tour of the school and spend break time there
Wednesday 7th June 2023, 10.30am-11.40am: Pupils will participate in a learning session and break time
Wednesday 28th June 2023, 11.40am-1.30pm (Group 1) or Thursday 29th June 2023,11.40am-1.30pm (Group 2) . Pupils will participate in a learning session and have their lunch at SCP. Your child's teacher will inform you which of these days your child will attend.
Warm regards,
John Mosley
Senior Teacher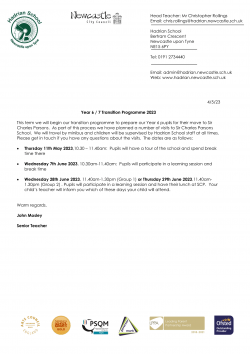 25th April 2023

Dear Parents/Carers,
Many thanks to all the parents who attended our Eid Assembly yesterday, I hope you enjoyed the festivities and the wonderful food on offer!! We want to remind everyone of our forthcoming 'Celebration of Diversity' event on Friday 5th May 5:00pm – 7:00pm here at Hadrian in our Sports Hall. The event includes music & dance, henna artists, talent showcase, face painting, stalls and much more. This free event is open to all of our friends and families from all communities linked to Hadrian School.
Just a reminder that we have Strike action this Thursday 27th April and following the Bank Holiday on Tuesday 2nd May. We can only apologise for the inconvenience this is causing as 19 of our Teachers are in the same NEU Union, but we hope we have your support to campaign for better working conditions and a fair pay settlement following years of under investment in Teacher salaries. We are making the best use of this time to train our Teaching Support Staff, follow-up our School Development Plans, invest in Outdoor Learning and preparing teaching resources for your children to enjoy over the summer term.
Some of our Support Staff who are PA's for your children may be prepared to support you on the Strike days if this is something you can take advantage of. If so please contact school and we will do everything we can to accommodate your needs.
This Friday, 28th April, our children have been invited to the Moorside Fair in Fenham and we intend to go as a school to enjoy this wonderful gift from the Showmen and Northumbria Police. We need all hands on deck to support our classes, so if any parents, friends can volunteer your time between 9:30am – 12:30pm on Friday we would be very much obliged. Please contact your child's Class Teacher to let them know your availability.
Just a reminder that children break up for half term on Thursday the 25th May 3.15pm, as there is a Training Day on Friday the 26th May.
Yours sincerely,
Chris Rollings

21st April 2023
Dear Parents/Carers
There is the opportunity to have your child's haircut on the 19 May at Hadrian School.
We can only offer dry cuts and we have qualified hairdressing staff who work in school who will be cutting your child's hair. The hair cuts will be during the school day.
We are also offering a manicure/pedicure/nail polish.
If you are interested in accessing this service please send the form below into school with your money by Monday 15 May so that we have time to plan the timetable of appointments. All funds will be donated to school.
_________________________________________________________________
Please return this form FAO Bev Heron by Monday 15 May
This is signed confirmation that you would like to have your child's haircut and/or have a manicure/pedicure/nail polish in school on 19 May.
Would you like your child to have a haircut                                 YES/NO
(Minimum donation £5)
Would you like your child to have a manicure/pedicure                      YES/NO
(Minimum donation £2)
Would you like your child to have a nail polish                           YES/NO
(Minimum donation £2)
Amount of money enclosed:……………………………………………………………………
Name of child:…………………………………………………………Class…………………………
Parent/Carer signature:…………………………………………………………………………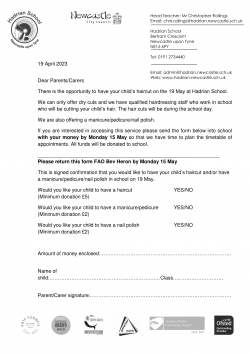 17th April 2023
17th April 2023
Dear Parents/Carers,
Welcome back!! I hope you were all able to spend some quality time with family and friends over the holidays and you are ready for the Summer Term which promises to be as busy as ever.
As I mentioned before the holidays, the Hadrian Herald is running a bit late but hopefully will be with you next week with all the news from the Spring Term.
Happy Eid-al-Fitr this week, possibly Thursday or Friday? When you know your intentions to celebrate could you please let school know as soon as possible if your child will be absent from school.  We will be having a special Eid Assembly next Monday 24th at 9:45am for any families that would like to join our celebrations.
As you will be aware the Teaching Unions have decided to take another two days of Industrial Action on Thursday 27th April and on Tuesday 2nd May. We are very aware of the disruption this causes to our families, however, we do hope you can appreciate the need for the Government to sit down and discuss the Teachers concerns and reach a compromise as soon as possible. School will be closed to the pupils both days as 99% of our Teachers are NEU members and will be taking action in solidarity with their colleagues across the country.
Dates for your diaries this term include the following;
Monday 1st & 8th May – Bank holidays
Children break up Thursday 25th May at 3.15pm as there is a Training Day Friday 26th Children return to school Monday the 5th June
Confident Parenting returns on the 11th May, if families would like to take up this fantastic opportunity to support each other please contact June Ball for further information by calling school or email: june.ball@hadrian.newcastle.sch.uk
The Friends of Hadrian will also meet on the evening of the 11th May from 4.00pm – 6.00pm, there is option to attend in person or remotely
With the summer approaching we would be grateful if you could send in a hat and sun cream into school to be used as and when required
The school have once again been given free tickets to attend Moorside Fayre next week. If your child's class has the opportunity to go during school time the Class Teacher will be in touch soon with further information.
We anticipate we will hear from OfSTED towards the end of April with news of our latest inspection. As soon as we hear anything, we will let you know.
Yours sincerely,
Chris Rollings
Head Teacher

9th March 2023
Dear Parents/Carers,
Just an update regarding the rescheduled Parents' Evening. We felt it necessary to take into consideration the weather warnings and cancel today for the sake of safety for you and our staff, so the rescheduled date is Thursday 23rd March. In the meantime, if you haven't already completed your Parent Questionnaire, can I encourage you to do so as your feedback is very important to us.
Can we also remind you that next week due to strike action, school will be closed to all pupils on Wednesday 15th and Thursday 16th March. We appreciate the disruption this is causing to your children's education and access to therapy and would encourage you to support the staff by writing, emailing, our local MP's to encourage the Government to meet and agree a compromise to this dispute.
The Holi Festival was also cancelled due to the cold weather but will also be rescheduled in the summer term. Because staff will not be in school next Thursday our plans for Red Nose Day will also be moved to a later date, however, the children are still free to come into school in non-uniform or fancy dress, any donations for Red Nose day would be welcome.
There is a sickness bug ravaging our early year's children and staff at the moment so please do not send your child into school if they appear unwell or have recently been sick. We are taking steps to deep clean and disinfect our classrooms to help prevent the bug spreading.
I know it is a few weeks off, but can I remind you that school will break for Easter on Friday 31st March and return for the Summer Term on Monday 17th April.
Finally, school will make every effort to be open as normal tomorrow, but if the roads are as bad as predicted we may have no option but to close. Look out for a text message early tomorrow if we do have to close, if you hear nothing then assume we are operating as normal.
Yours sincerely,
Chris Rollings
Head Teacher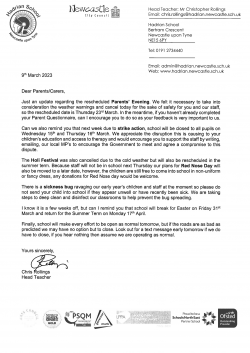 1st March 2023
Dear Parents/Carers
SCHOOL UNIFORM –SALE
We have a limited stock of school uniform available at a reduced price.
All future orders must be made online to:-
www.border-embroideries.co.uk/schools/hadrian-primary-school.html
| | | | | | | | |
| --- | --- | --- | --- | --- | --- | --- | --- |
| | Polo | Sweat | Cardigan | T-Shirt | Hoodie | Fleece | Coat |
| OFFER PRICE | £8.00 | £9.00 | £12.00 | £5.00 | £12.00 | £13.00 | £15.00 |
| Full Price | £10.99 | £12.99 | £14.99 | £7.70 | £14.99 | £16.99 | £23.60 |
| Age 2-3 | | 3 | | | 5 | | |
| Age 3-4 | | | 7 | 5 | 2 | 1 | 3 |
| Age 5-6 | 1 | | 3 | | 10 | | |
| Age 7-8 | 1 | | 1 | | | | |
| Age 9-10 | | | | 5 | 2 | 1 | |
| Age 11-12 | | | | 1 | | | |
| | Polo | Sweat | Cardigan | T-Shirt | Hoodie | | Coat |
| OFFER PRICE | £12.00 | £14.00 | £15.00 | £7.00 | £18.00 | | £15.00 |
| Full Price | £15.99 | £16.99 | £21.99 | £9.80 | £18.99 | | N/A |
| Small | | | | 5 | | | |
| Medium | 5 | 5 | 10 | 6 | | | 1 |
| Large | | 4 | 2 | | 1 | | |
| X-Large | | 4 | | | | | |
| | Book Bag | PE Bag | Back Pack | Baseball Cap | | | |
| OFFER PRICE | £4.00 | £3.50 | £7.00 | £2 | | | |
| Full Price | £7.99 | £6.99 | £13.99 | £7.50 | | | |
| | 1 | 42 | 13 | 15 | | | |
Complete order form on reverse and send with cash/cheque to school. First come, first served.
10th February 2023
Dear Parents and Carers
Many thanks to all those parents/carers who have sent your questionnaires back in to school. If you have not sent your form back, please do so as soon as possible.  We really appreciate your comments and will continue to work hard to meet your expectations.  Don't forget Parents Evening will be on 9 March where we would also like to encourage you to share your views on school to OfSTED.
On a sad note for us this week we will be saying farewell to one of our Teachers, Rachel Hope, who starts her maternity leave tomorrow.  We wish her all the very best for the arrival of her new baby boy and thank her for all she has contributed to Hadrian since September.
Also next week we say goodbye to one of our long serving teachers, Tracy Gooderick who is changing roles to become a SEND Caseworker in North Tyneside after Half Term.  Again we give our thanks for all Tracy has contributed to school and wish her well in her new career.
To celebrate Newcastle United's amazing achievement in reaching a Wembley Cup Final, we will be having a 'Black and White' day on Thursday 16 February before we finish for Half Term.  The staff and children will all come in black and white and enjoy some fun themed black and white activities.
REMINDER:  Staff Training day 17 February, children break up for Half Term on Thursday 16 February at 3.15pm.  Teachers strike day Tuesday 28 February, school closed to children unless any settlement can be agreed with the Government before then.
World Book Day 2023 – Thursday 2nd March
Plans are well underway for our World Book Day celebrations on Thursday 2nd March.
All classes will be working on story telling activities throughout the week, our school chef, Sam, is putting together a World Book Day themed lunch and all classes will join in our World Book Day assembly. Every child will also receive a book token which can be used towards purchasing their own choice of reading book.
Children are welcome to come to school dressed as a book character or even in their pyjamas to celebrate bedtime reading.  This is optional, we understand some children prefer routine.
Yours sincerely
Chris Rollings
Head Teacher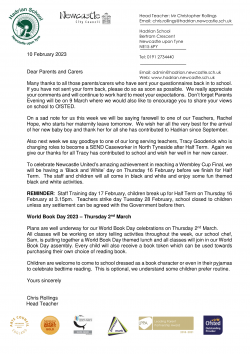 3rd February 2023
Dear Parents, Carers,
Parent/Carer Questionnaires
We would like to find out your views/opinions/comments about our school through our Parents/Carer Questionnaire, please find attached. This is an opportunity for school to gather your thoughts and feelings and for us to take on board your feedback.
We would be very grateful if you could take the time to complete the questionnaire and return this to school before half term.
Ofsted would also really like your feedback about our school through their 'Parent View' online questionnaire, the link in on our school website:
A reminder that it's Parents Evening on the 9th March, your child's Class Teacher will be in touch soon to arrange an appointment with you.
We would like as many parents/carers to attend as possible so you have an opportunity to speak to the Class Teacher and also celebrate the excellent work your children have been doing.
Just a reminder that your child breaks up for half term at 3.15pm on the 16th February as there is a staff training day on the 17th February.
Yours sincerely
Chris Rollings
Head Teacher
31st January 2023
20th January 2023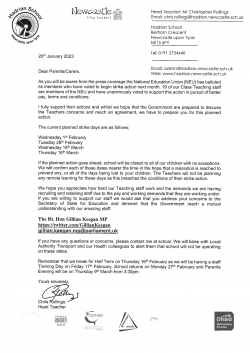 10th January 2023
9th January 202321st December 2022
14th December 20227th December 202228th November 2022
21st November 2022

2nd November 2022
1st November 2022
21st October 2022

17th October 2022
7th October 2022

26th September 2022