The Rob Armstrong
Rebound Therapy Centre
After five years of fund raising, the Rob Armstrong Centre for Rebound Therapy and our new HEADS Training Centre are finally a reality!
In February 2018 we embarked on an exciting journey to enrich the therapeutic opportunities for our children, our families and the wider disabled community in the North East.
Now we need to hear your views and your choices for how we make the most of our fantastic facilities. For those of you who have not yet visited to see our new Training Centre, Rebound Therapy Centre and Music Studio, we would encourage you to do so.
We are hoping that parents and carers will take advantage of new training opportunities to become a coach for your own child in Rebound Therapy. We also hope parents will continue to access our Confident Parenting Programme, First Aid Training, Epilepsy Awareness Training, Moving and Handling Training and Makaton Courses. We are keen to hear your ideas for future training courses that you would like us to run on your behalf.
We are also very keen for you to take up the opportunity to hire our new facilities, not only for your child with additional needs, but for the whole family. Families have asked us to run integrated clubs for sport, art and leisure. Other families have asked if they could use our Music Studio and Kitchen for birthday parties – 'Yes' is the answer! We are keen to explore as many options as possible but the success of the out-of-hours use of the new facilities will depend upon the demands you place upon us so please get in touch with suggestions as soon as possible.
We would also like you to help us publicise our new facilities to the wider disabled community in our region, in particular for the benefit of adults with additional needs. If the interest is there we will open the centre Monday to Thursday from 4.00 until 8.00pm and make it available on weekends and during holiday times.
We have recently been featured on BBC News!
Rebound therapy: The zero-gravity exercise that gets children screaming 'more'
---
Compendium to Rebound Therapy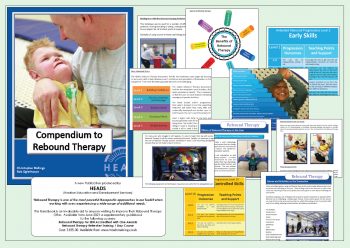 HEADS new Compendium to Rebound Therapy is available now to purchase
A hardcopy of the handbook is available for £195.00
If you are interested in purchasing a copy please contact david.palmer@hadrian.newcastle.sch.uk