Rebound Therapy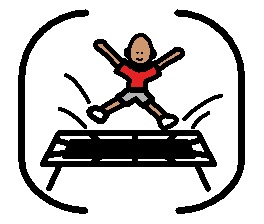 The phrase "Rebound Therapy" describes the use of trampolines in providing therapeutic exercise and recreation for people with a wide range of special needs. These include participants who may have profound and complex learning difficulties, severe and moderate learning difficulties, ASD and motor coordination difficulties, dual sensory impairments or sensory processing difficulties. Rebound Therapy is used to facilitate movement, promote balance, promote an increase or decrease in muscle tone, promote relaxation, promote sensory integration, improve fitness and to improve communication skills.
The Rob Armstrong Rebound Therapy Centre
Our bespoke Rebound Therapy Training Centre was opened in February 2018 by our generous Patron Rob Armstrong. The centre is used daily by Hadrian School and also offers rebound sessions for the wider community on evenings, holidays and weekends.
The main centre consists of 5 trampolines, and has overhead tracking covering the entire space making it fully accessible to both able bodied and physically disabled  children/adults.
---
Rebound Therapy at Hadrian School
We have recently been featured on BBC News!
Rebound therapy: The zero-gravity exercise that gets children screaming 'more'